Wisconsin's #1 Car Wash Systems Supplier and Distributor
Best Equipment, has been servicing the car wash industry since 1985. We design and build self service and brushless automatic car washes. We also distribute and install equipment and chemicals.
For over two decades, we have owned and operated 10 area car washes. As small business owners/operators, we understand the importance of dependable products and service.We have grown to be leaders in our field because we stand behind what we sell and install. We are committed to supplying the best quality equipment at competitive prices.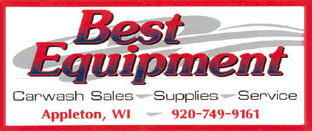 Best Equipment is committed to servicing your product throughout it's entire lifecycle. Our staff is trained to recognize and troubleshoot product implications. With years of experience with equipment installation and service. We are a phone call away. 920-749-9161